.
Sie können zwischen der Monats- Wochen- oder Listenasicht wählen. Please switch calender from month- to week- or listview.
Event Navigation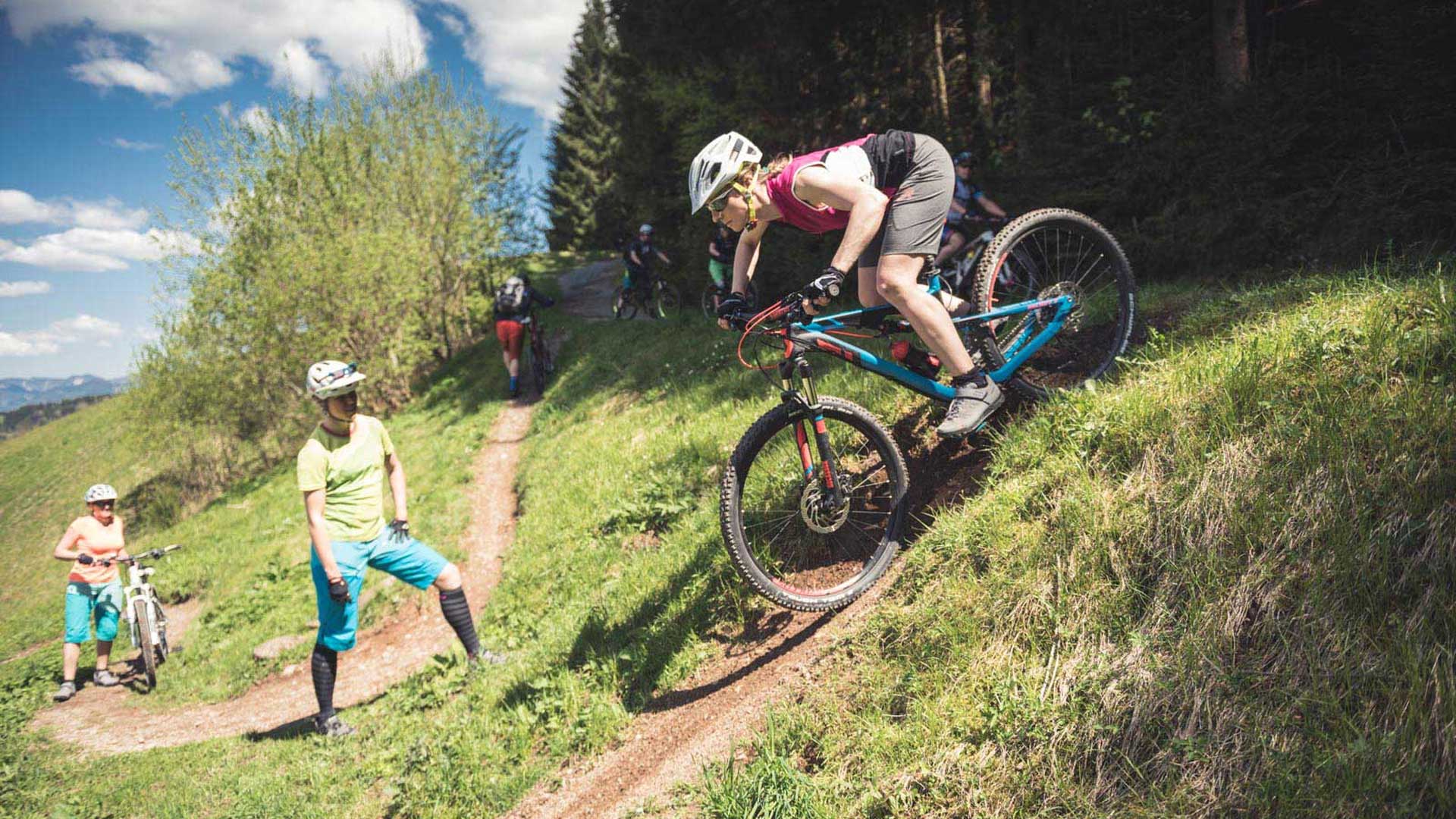 VAUDE Bike Camp MTB & E-Bike
Do you like to be out and about in the mountains on a mountain bike or e-mountain bike? Do you fancy exciting and varied single trails? Do you want to master the different driving situations safely and with fun?
Then you have come to the right place at the VAUDE Bike Camp and E-Bike Camp powered by GHOST! Under the motto "More safety when biking", you will learn the basics of biking in the driving technique training or refine your driving technique further for a lot of fun and safety on tour. You will be looked after by trained and certified VAUDE bike guides, bike professionals and sponsoring partners with many years of experience.
The event is rounded off by an informative and colorful supporting program, let yourself be surprised. We are accommodated in the Hotel Penzinghof ****. Surrounded by the Kitzbühel Alps, it is the ideal starting point for our tours and invites you to relax afterwards with a beautiful wellness area (lavender SPA and swimming pool). Whether a rich breakfast buffet, coffee and cake after the tour or culinary specialties in the evening – we are well catered for. The Hotel Penzinghof is a very special, top-class hotel.
At the Friday you travel comfortably and can equip yourself for the coming days in the test centers.
The following test centers are on site in VAUDE Bike Camp :
VAUDE : Clothing (including e-bikes), rucksacks (including e-bikes), flat pedal shoes
SCOTT: Test bikes
IXS: More beautiful
Seeberger : Sports nutrition
XENOFIT: Sports nutrition and drinks
Important NOTE:
DANGER! Only a limited number of test bikes for the VAUDE Bike Camp! There is no entitlement to reserve the test equipment for the material test. We try, however, to meet all wishes as possible. Bring your own equipment!
Additional costs for the VAUDE Bike Camp :
The rental equipment is free for the entire period. The lift ticket is not included in the price. If lift support is required in the individual groups, reduced daily or single journey fees apply accordingly for the mountain railways in the Kitzbüheler Alpen.
Equipment:
Your fully functional MTB or e-mountain bike (fully or hardtail) – despite the test center, please bring your own bike.
Helmet, gloves, (sun) glasses
Your own bike shoes or sports shoes with a flat sole
We recommend flat pedals and protectors for knees for riding technique and on tours (flat pedals and protectors can be borrowed free of charge / for the flat pedals you need shoes without clipless pedals)
Supported by the following VAUDE bike sponsoring partners:
Bike Academy Kitzbühel Alps (Kurt Exenberger)
Kerstin Kögler (DIMB & VAUDE athlete)
Stefan Eberharter (VAUDE athlete)
SAAC
2 days of driving technique training in the skill park and exciting single trail tours
2 nights in the Hotel Penzinghof **** in a double or single room (single room 50 € surcharge)
2 x breakfast buffet, 2 x afternoon snack, 2 x dinner
2 x tour meals and snacks from Seeberger and XENOFIT
Participant gift from VAUDE
Test center from VAUDE, Ghost, IXS, Seeberger and XENOFIT
Practical workshop bike check, setup
VAUDE Pro film screening
Lecture by Kurt Exenberger
Bike Trail Show with Vice World Champion Stephan Eberharter
Raffle of high quality prizes
.
day 2
Under the direction of Kurt Exenberger (driving technique trainer and guide)
Saturday is all about driving technique.
In different levels and groups we refine, practice and hone our riding technique in the skill park of Kurt Exenberger's bike academy.
From Saturday lunchtime, we will then put what we have learned into practice on a single trail tour that is appropriate to our skills.
On Sunday, Kurt Exenberger's bike guides will take you on an exciting and varied single trail tour, we will get you in shape for your tours in summer cycling.

Day 3
Saturday: We work individually in various groups and levels on our driving technique in the skill park of Kurt Exenberger's bike academy or on single trail tours.
Sunday: "Uphill in the flow – new possibilities with the e-bike"
With your e-bike, there are now many new situations and opportunities that were previously unimaginable, even uphill. Technical uphill riding on an e-bike is a completely new experience and opens up a whole new spectrum for mountain bikers. On an exciting and varied single trail tour, we will prepare you for your tours in summer cycling.
A program for experienced e-bikers on the single trail, you must bring your own e-bike. You will also be supported here with new specific e-bike products such as e-bike shirts and shorts and an e-bike backpack, which can be tested on site.

Alle Camps und Ausbildungsveranstaltungen sind direkt buchbar.
You can book all our camps.