.
Sie können zwischen der Monats- Wochen- oder Listenasicht wählen. Please switch calender from month- to week- or listview.
Event Navigation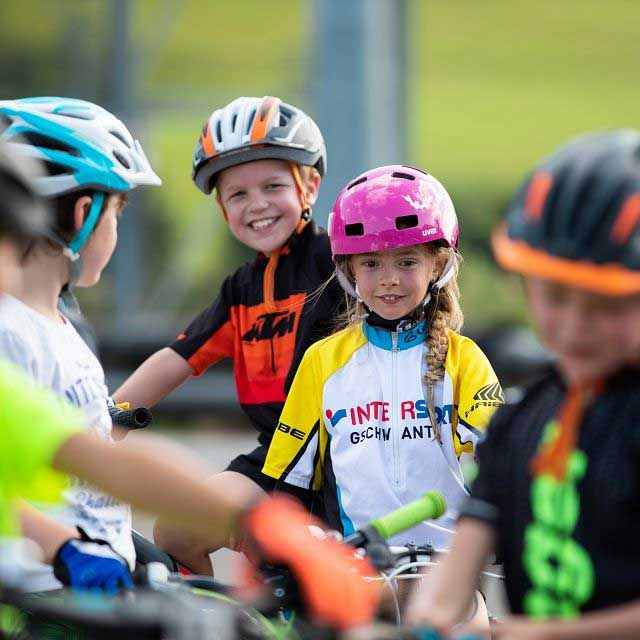 MTB training for children – mountain bike training in Brixen
Exciting bike training with our professional trainers in Skill Park Bressanone for children from 7-12 years. The kids playfully learn the basic techniques for safe handling of bicycles and mountain bikes on and off-road.
Meeting point: SkiWelt-Bahn valley station in Brixen im Thale / Intersport Gschwantler
meeting : Wednesday 4:30 p.m. – 6:00 p.m.
costs : EUR 15.00 (EUR 10.00 with guest card) or season ticket
Age: 7-12 years
Equipment: Fully intact mountain bike, helmet, sports glasses, gloves, drinking bottle;
Registration and information: Brixen im Thale tourist office +43575072200, brixen@kitzbuehel-alpen.com
The MTB training for children – with the mountain bike in the mountains – that is a dream of many kids! Jumping, cornering, catching games and maybe to top it off with a few laps on the Pump Track! Our bike training at the Skill Park in Brixen is simply a lot of fun. There are season tickets for those who want to be there every week. But children can also sniff or just take individual training courses. Educated Bike trainer impart knowledge and fun as well as lots of tips and tricks about mountain biking. We train in 2 or 3 performance groups, beginners and advanced learners feel comfortable and are encouraged and challenged!
MTB training for children is very valuable!
We move your kids in the fresh air and they have a lot of fun and become safer on their bikes in traffic and other situations. The requirements on the bike are perfect for the adolescents: balance, spatial orientation, hand-eye coordination, endurance, strength and team spirit are trained. Technical cycling is one of the most ideal sports for children. This is how you lay the basics so that the children can later move safely on the mountain with their bikes or you even lay the foundation for a career as a racing driver. Lisi Osl and Max Foidl already managed this with us!
Our trainers are well trained and all passionate mountain bikers. We also love to get children moving. That was never more important than now! Get into MTB training for children!
MTB training for children – THE PHILOSOPHY OUR MOUNTAIN BIKE SCHOOL
The further development and perfecting of your mountain bike riding technique is our greatest concern. With us you can experience unforgettable adventures on two wheels and feel the absolute "flow" in every cell of your body. Our over 20 years of experience and know-how in the areas of bike guiding and riding technique lessons is huge and all trainers are full professionals – quality is our top priority!
Alle Camps und Ausbildungsveranstaltungen sind direkt buchbar.
You can book all our camps.