.
Sie können zwischen der Monats- Wochen- oder Listenasicht wählen. Please switch calender from month- to week- or listview.
Event Navigation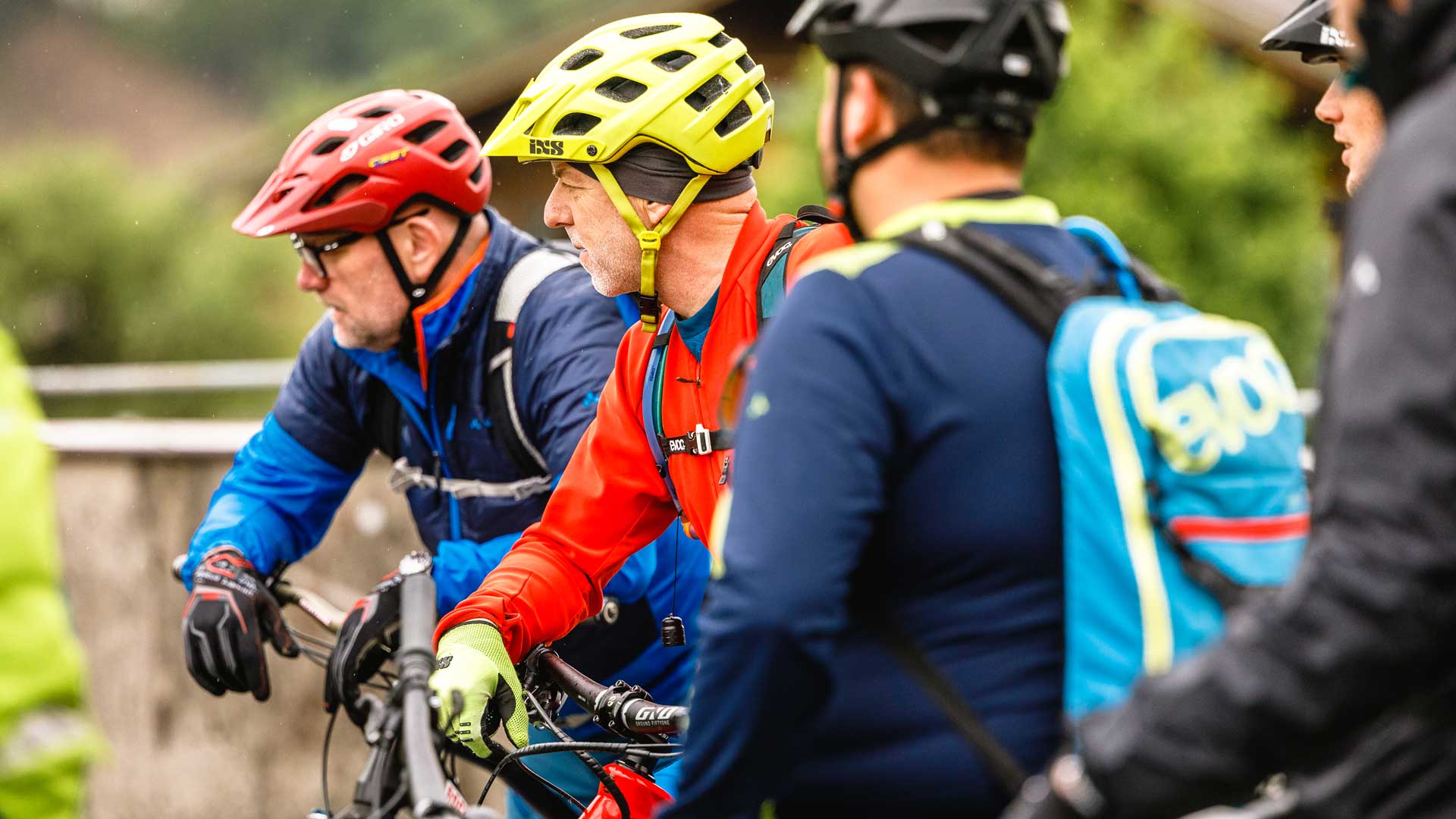 Advanced training driving technique trainer
for MTB guides, trainers, instructors and trainers
Target group: Guides and trainers who want to teach their customers professional driving technique
Conditions: At least D1 trainer of the ÖRV training regulations (trainer, instructor, MTB guide)
Certification Austrian Cycling Association: The training to become a MTB driving technique trainer is recognized as an ÖRV training course to obtain a license and can be recognized as a driving technique aptitude test for C1 / C2 trainer instructor training (certificate submitted when registering with participants, decision by BSPA and ÖRV).
Standard Mountain Bike Holidays: In the future, further training will be a mandatory criterion for Elite and Pro companies and further training in this area is mandatory every 3 years at the latest.
We offer two specialization variants for the advanced training of driving technique trainers:
1. Trail & tours
2. Bikepark & Enduro
After the training, the driving technique trainer is able to carry out technique training for beginners and advanced drivers from a methodical and didactic point of view. Your own ability is saddle-proof up to advanced technique! Depending on the variant, it can teach amateur athletes and racing drivers (XC, DH and Enduro) the latest driving technique on trails and in the bike park. Also the differences and peculiarities in the Driving technique with e-mountain bikes are known to him and he can implement specific lessons for e-bikers.
Dates advanced training driving technique trainer
May 9-12, 2021 – 6 places free – St.Johann in Tirol – Trail & Tour
June 7-10, 2021 – 7 places free – St.Johann in Tirol – Park & Enduro
Course content advanced training driving technique trainer

Practice (PMÜ)
balance
Bike handling skills
playful forms of training
Basic behavior
Braking technology
Emergency descent
Curve technique
Overcome obstacles
Switchback technique
Steep steps, edges of the terrain
Jumps
Bunny hop
Theoretical content
Movement theory
Pedagogy / methodology
Material science
Exam topics:
Own ability
Teaching appearance
Facts
Duration: 3 days – Sunday or Monday 2 p.m. to Wednesday or Thursday 2 p.m.
Costs: € 395 per person incl. Teaching and learning materials
Seminar room: With us in Weight room , Salzburgerstrasse 15, 6380 St.Johann
Course hotel: We recommend our course hotel as accommodation: Cubo Sport & Art Hotel in St.Johann in Tirol – If you mention the keyword "Driving technique trainer advanced training bike academy", a 5% discount is granted.
Material requirement:
Hardtail or full suspension bike (depending on the specialization variant), new tires, half-shell helmet, backpack, first aid equipment, knee protectors (more protective equipment according to individual needs), breakdown assistance equipment, writing utensils; E bike: For Wednesday – Pedelec MTB full suspension (compulsory for Bikepark & Enduro) or hardtail, bring your own or a rental bike – please reserve in advance >>> https://www.intersport-patrick.at/biking/
Timetable driving technique trainer (29 UEH)
day 1
Day 1 2:00 p.m. 2.30 p.m. Welcome and course opening
14:30 17:00 PMÜ 3 EH
17:00 17:45 Material science 1 EH
20:00 21:30 Movement theory 2 EH
day 2
2nd day 08:30 12:15 PM 5 EH
14:00 17:00 PMÜ 4 EH
8:00 p.m. 9:30 p.m. Methodology 2 EH
Day 3
3rd day 08:30 10:45 PM 3 EH
11:00 12:30 Movement theory 2 EH
14:00 18:00 PMÜ 5 EH
20:00 21:30 Movement theory 2 EH
On the 3rd day we ride the entire program with the e-bike
Day 4
4th day 9:00 a.m. 10:00 a.m. Examination of personal skills
10:00 13:30 Examination teaching appearances
1:30 p.m. 2 p.m. Course completion
Changed COVID19 cancellation conditions (valid until September 2021):
Free cancellation guarantee up to 7 days before the start of the event / course:
if there is a travel warning or a state quarantine order for incoming and returning travelers
Short-term free cancellation guarantee:
if the activity is not feasible due to contact restrictions
General cancellation conditions:
up to 30 days in advance = cancel free of charge
from the 29th day to the 7th day before the start = 50% cancellation fee
from the 6th day before the start of the event = 100% of the costs
In the event of an injury with a medical certificate, a maximum of 50% cancellation costs
In the event of cancellation on our part, all down payments will be 100% refunded or a credit will be issued upon customer request. We reserve the right to cancel no later than 6 days before the event.
We offer further camps and training courses in the field of mountain bike trainers – check out ours Calendar of events at.
Alle Camps und Ausbildungsveranstaltungen sind direkt buchbar.
You can book all our camps.